---
Exhibit Hall Experience
Camaraderie - Education - Innovation
We will once again be hosting a live Exhibit Hall, this year. See you there, soon!
---
A Special Thanks to Our 2023 Corporate Sponsors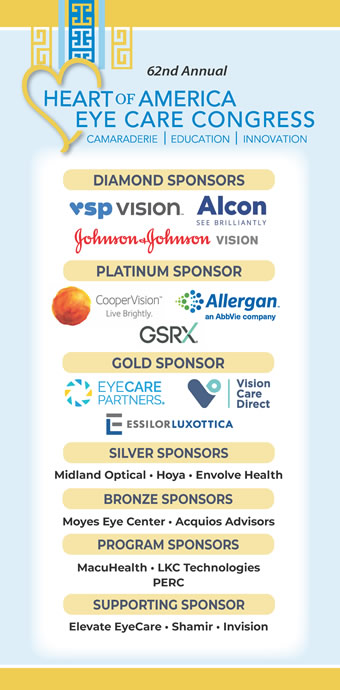 President's Message
Scott Drake, OD,
HOAECC President
The 62nd Heart of America Eye Care Congress held February 10-12, 2023 was a huge success. The board of directors would like to thank everyone who attended for making this possible. The "Heart" success demonstrates how important it is for doctors, opticians, paras and optometric staff to attend meetings together in person. Education and discussions with our peers and coworkers are a vital part of allowing us to give the best care possible to our patients.
Education in the upcoming HOAECC, being held February 9-11, 2024 will continue to cover all aspects of eye care including systemic diseases, anterior and posterior ocular segment issues, contact lenses, instrument integration and optical design. We will continue to invite top speakers from all over the country. One of the newest classes added in 2023 was a scribe track which received wonderful reviews from the attendees. We will continue to offer innovative and informative education.
Innovation is a key element of the HOAECC. The Exhibit Hall had over 87 exhibitors in 2023. Our industry partners are an important group who help us learn about the newest technology and enable us to hone our skills. For the past several years the Heart of America Eye Care Congress has given away 5 scholarships to well deserving doctors who submit educational posters. Hundreds of posters are submitted each year representing some of the innovative ideas in our profession. The Dr. Frank D. Fontana Memorial Scholarship will continue to be presented to an optometric student who demonstrated the key attributes that made Dr. Fontana a leader in our profession.
Camaraderie is what makes the Heart a truly exceptional meeting. With over 15 hours of continuing education offered in one weekend, it stands to be one of the premiere conventions for eye care providers throughout the Midwest. Mingling with our colleagues is one of the best ways to learn. Many doctors bring their staff and families because Kansas City has so much to offer including entertainment, shopping and wonderful restaurants. The Saturday night Gala tops the convention weekend. You don't want to miss one of our own leading the band, the awards presentation, a great meal, a fun photo booth and dancing until midnight!
Respectfully from the Heart,
Scott Drake, OD
President, Heart of America Eye Care Congress
president@hoaecc.org
---