---

Exhibit Hall Experience
Camaraderie - Education - Innovation
Optometrists and paraoptometrics are invited to visit with over 100 Exhibitors and to enter to win door prizes valued at over $15,000 in the Heart Exhibit Hall. Join colleagues in the Exhibit Hall and enjoy refreshments, cocktails, the Scavenger Hunt and The Heart Craft Beer Tour. There is always something exciting happening in the Exhibit Hall!
---
A Special Thanks to Our Corporate Sponsors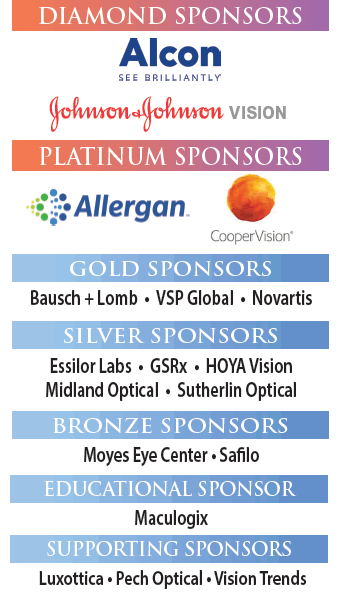 ---
Thank you from the Heart!
Message From the President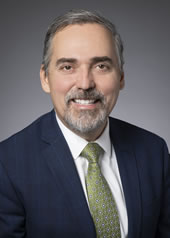 Sean P. Mulqueeny, OD.,
HOAECC President
Thank you for another great year at the 2019 Heart of America Eye Care Congress. For the past 58 years, the Heart of America Eye Care Congress is one of the country's premier optometric meetings, delivering high quality continuing education from nationally renowned speakers. The "Heart" meeting continues to evolve with the optometric profession. Our mandate for continuing education originally concentrated on the development and application of contact lenses. Today however, the Heart's scope of optometric continuing education is at the forefront of our profession and encompasses all specialties including ocular surface disease, glaucoma, retinal disease, specialty contact lenses, pediatrics, practice management and more.
We honored one of the Founders of the Heart of America during our Presidential Banquet at this year's Congress. As a National Optometry Hall of Fame inductee, Dr. Frank Fontana of Saint Louis was a legend in the field of optometry. He helped establish the Heart of America Contact Lens Society in 1961; serving as a charter Board Member. Sadly, we lost this icon last October. He dedicated himself to our organization and to memorialize his commitment to the Heart, we collaborated with VSP to establish the Dr. Frank Fontana Memorial Scholarship. It will be open to third and fourth year optometry students who will be judged in four areas in which Dr. Fontana excelled: 1) clinical performance; 2) empathetic patient care; 3) ability and interest to adopt modern technologies; and 4) a strong interest in developing and participating in the optometric community. The scholarship recipient will receive $4,250 in scholarship money and a $750 travel grant to attend Heart of America's Eye Care Congress Conference in 2020.
We again enjoyed robust attendance this year with optometrists, residents, paraoptometrics and students gathering from across the United States. Paraoptometrics acquired education accredited by the American Optometric Association's Commission on Paraoptometric Certification. As always, the Exhibit Hall was bustling as over 100 exhibitors showcased the latest in pharmaceuticals, technology, fashion, practice management software and more. In addition to the its professional function of bringing vendors and practices together, the Exhibit Hall again hosted the ever-popular Annual Heart of America Craft Beer Tour Friday evening. It was a huge hit, as was our Presidential Gala Saturday evening sponsored by ODs on Facebook.
The Heart proudly partners with the America Academy of Optometry and our Interactive Scientific Poster Session this year showcased the next generation of eye care professionals with 84 exceptional scientific posters presented. This was the third Heart of America meeting in which first authors presenting a scientific poster were awarded 10 points towards earning their American Academy of Optometry fellowship. Also, the Heart proudly hosted the Best of the American Academy of Optometry, which featured highlights from the 2018 Academy in San Antonio. We will again offer these Academy events at the Heart in 2020.
The year 2020 will be a signature year for Optometry and for the Heart of America Eye Care Congress. You are invited to join the camaraderie, education and innovation at the 59th Annual Heart of America Eye Care Congress February 14-16, 2020 at the Sheraton Kansas City Hotel at Crown Center to acquire some of the finest continuing education from nationally renowned speakers. Our meeting will be the perfect event for you to reconnect with friends and to network to grow your practice.
We look forward to seeing you again in Kansas City in 2020. Please contact any member of the HOAECC Board of Directors if we can assist you in any way. Respectfully from the Heart, Sean P. Mulqueeny, OD President, Heart of America Eye Care Congress president@hoaecc.org

Respectfully from the Heart,
Sean P. Mulqueeny, OD
President, Heart of America Eye Care Congress
president@hoaecc.org
---